Videofied delivers encrypted, wireless security equipment in a world of insecurity and hackers
Videofied is the Best Among the Wireless Video Security System Dallas
In a world that is growing more and more unsafe over the passage of time, you need the best security alarm system at your home or workplace. Videofied wireless video security system Dallas provided by Verified Security Solutions is the one point solution to the problem.Users of videofied system offered by us have already forgotten other forms of video security alarm systems. The concept is taking the consumer world by storms and Verified Security Solution as the originator of the system has been earning the attention of customers all over Dallas and other areas.
What is the fancied Videofied Concept?
As the end user you will certainly like to know about videofied concept and why it is fast turning out to be the most sought after wireless video security system Dallas. It is an alarm system that you have never seen before. Use of the video verified alarm system makes all the differences to all the concerned parties. When you install the system it can help the law enforcement agencies to reduce crime level and make easy apprehension of
the wrong doers. You will have peace of mind knowing that your property and people left behind are safe and secure due to installation of the system.
Installation of Our Videofied System helps you secure people and property better in an affordable manner
When you decide to install videofied system the advantage you get is quick video response and efficiency at reduced costs. Videofied is accepted by people as one of the best wireless home alarm systems because there is a major difference from other video security systems. While traditional wireless video security system Dallas only records the images for future viewing and verifying, the Videofied system immediately sends a short clip to the central station that helps immediate remedial actions to be taken. At the same time our system is affordable and thus you get double benefits of better performance at lower prices with the Videofied system offered by us.
Videofied offered by Verified Security Solutions is a complete alarm system
When you use our Videofied system as the wireless home security system or as your workplace security system you get a complete alarm system that sends immediate notification to central station for immediate review; a facility that is not available in other self-surveillance security systems in Dallas.
Videofied provided by Verified Security Solutions; the authentic provider of the best wireless video security system Dallas including the ireless home alarm systems can enhance the security of your home or workplace manifold. Why wait? Call us or email us now and enjoy the best at the cheapest.
---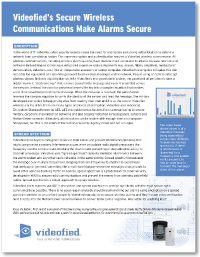 Videofied's Secure Wireless Communications
Make Alarms Secure

Download (PDF)
AES encryption between the panel and devices
AES encryption between the panel and central monitoring station
Continuously changing, dynamic encryption keys
Military-grade, spread spectrum prevents radio  jamming and interference
Bidirectional, error-checking RF communication
Videofied Spread Spectrum Technology
The short video clip below is of a Videofied message being transmitted across many different frequencies (spread spectrum). If there is interference or "jamming" on a frequency, the system works around it to find an open lane to transmit the message/video of the alarm.
Wireless Alarm Security Issues
About AES Encryption